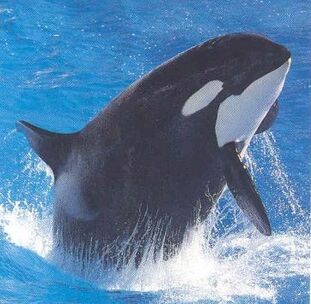 Yaka was a 29 year old female orca who was captured in Canada on December 11, 1969. She passed away on October 29, 1997.
Yaka was captured along with six other whales. Soon after her capture, she and one of her pod mates, Nepo, were moved to Marine World of Africa. Here they met another female name Kianu. The two females did not get along well and both wanted Nepo's attention. Eventually, Kianu was moved to a park in Japan after Kianu and Yaka became too aggressive. The park hoped that Yaka would eventually get pregnant but she never did. The two briefly met a female named Surfer Girl who lived at the park for a few months in 1979.
Sadly, in 1980, Nepo passed away. Yaka was now alone and searched for a new companion. In March 1981, the park introduced a young female to Yaka who was named Vigga. The two became very close and soon were performing in shows together. Yaka also participated in waterworks. In 1985, the park relocated to Vallejo, California. Today Marine World Vallejo is now known as Six Flags Discovery Kingdom.
In Summer 1997, Yaka became ill. Yaka battled a respiratory fungal infection for three months before passing away.
Sex-Female
Aged-29
Captured-12/11/69
Age at Capture-Approximately 1
Place of Capture-Pender Harbour, BC
Date of Death-10/29/97
Place of Death-Marine World California
Cause of Death-Respiratory Infection
Family
A Pod (Northern Resident)
Origin of Yaka
African for "Strong Ones"
Pronounced: YAH-kah
Weights
1,500 lbs (1969)
3,500 lbs (1978)
5,500 lbs (1980)
9,000 lbs (1985)
10,000 lbs (1997)
Lengths
10.5 ft (1969)
15 ft (1978)
20 ft (1997)
Breed
Subcategories
This category has only the following subcategory.
Ad blocker interference detected!
Wikia is a free-to-use site that makes money from advertising. We have a modified experience for viewers using ad blockers

Wikia is not accessible if you've made further modifications. Remove the custom ad blocker rule(s) and the page will load as expected.