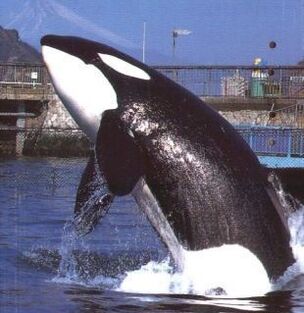 Tanouk, also known as Yamato, was a 14 year old male orca who was captured in Iceland in Octoober 1989. He passed away on October 24, 2000 at Izu-Mito Sea Paradise.
Tanouk was one of the last orcas to be captured in Iceland waters. Soon after his capture, he was moved to the Hafnarfjordur Aquarium along with Ran, Ai and Sharkane. The four stayed here for the next couple of months. In January 1990, he was moved to Marineland Antibes along with Sharkane. Tanouk was one of the less dominant whales at Antibes. He didn't get along well with Kim and the two were not usually kept together.
In 1995, Tanouk was sold to Izu-Mito Sea Paradise in Japan. He was renamed Yamato. The park wanted another orca and so they started looking for a companion for him. In 1997, Japan captured five whales and one of them came to the park. A female named Asuka joined Yamato and it was hoped the two would eventually mate and have a calf. The two got along well and performed together. Sadly, he passed away on October 24, 2000, before they could have a calf.
Sex-Male
Aged-14
Captured-10/--/89
Age at Capture-3
Place of Capture-Hafnarfjordur, Iceland
Date of Death-10/24/00
Place of Death-Izu-Mito Sea Paradise
Cause of Death-Unknown
Family
Also known as
Origin of Tanouk
Form of Tanuk
Tanuk means "Witness" in Hungarian
Pronounced: tan OOK
Origin of Yamato
Japanese for "Ancient Japan"
Pronounced: yam AH toe
Weight
Lengths
13 ft (1989)
21 ft (2000)
Breed
Subcategories
This category has only the following subcategory.
Ad blocker interference detected!
Wikia is a free-to-use site that makes money from advertising. We have a modified experience for viewers using ad blockers

Wikia is not accessible if you've made further modifications. Remove the custom ad blocker rule(s) and the page will load as expected.