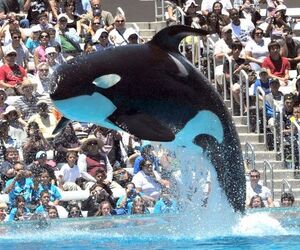 Sumar was a male orca who was born at SeaWorld Orlando on May 14 1998. His mother is
Taima
and his father is
Tilikum
. He passed away on September 7, 2010 at SeaWorld San Diego from gastric tortion.
Sex-Male
Aged-12
Birthday-5/14/98
Date of Death-9/7/10
Birthplace-SeaWorld Orlando
Place of Death-SeaWorld San Diego
Cause of Death-Gastric Tortion
Family
Parents
Grandparents
Sister
Half Sisters
Nyar (1993)*, Unna (1996)*, Kohana (2002), Skyla (2004), Sakari (2010)
Brother
Half Brothers
Kyuquot (1991), Taku (1993)*, Tuar (1999), Nakai (2001), Ikaika (2002), Makaio (2010)
Unknown Sibling
Taima's Stillborn (2010)*
Aunts
Nieces
Nalani, Victoria*, Kyara*
Nephews
(Note: To see Sumar's extended wild family, go to Kanduke's Profile).
Origin of Sumar
Breed
75% Icelandic
25% Bigg's Transient
Within a few months of his birth, Sumar had to be separated from his mother after she became aggressive towards him. Many suspect Taima did this after witnessing her mother try to drown her younger sister due to her being mentally and physically ill. After this, Katina and Kalina cared for him until he was moved to SeaWorld San Diego.
After his transfer, Corky raised him as her own. Orkid also assisted in his care. When Bjossa arrived from the Vancouver Aquarium to receive medical treatment, she also took an interest in caring for Sumar. Sumar was transferred to SeaWorld Aurora in 2000 and returned to California the next year. 
Sumar became close to some of the other young males who came to the park as well. He could often be seen with Ulises, Splash, Keet, Keto and Nakai. Sumar was trained for waterworks and often performed with trainers during shows. He never showed any aggression to his trainers and was very reliable. He enjoyed playing with different toys but was also laid back. 
On September 7, 2010, Sumar was given antibiotics after appearing ill. Unfortunately, he passed away later that day from gastric tortion. This type of illness happens in many different species, from large breed dogs to horses. Antibiotics would have proved useless and even if veterinarians had known what was going on, he would have eventually passed away.
Subcategories
This category has only the following subcategory.
Ad blocker interference detected!
Wikia is a free-to-use site that makes money from advertising. We have a modified experience for viewers using ad blockers

Wikia is not accessible if you've made further modifications. Remove the custom ad blocker rule(s) and the page will load as expected.