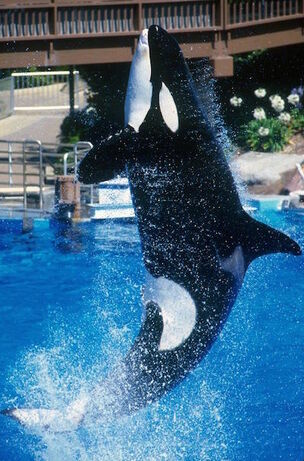 Splash, also known as Katak, was a 15 year old male orca who was born on August 15, 1989 at Marineland Canada. His mother is 
Nootka 5
 and his father is 
Kandu 7
. He passed away on April 5, 2005 from gastrointestinal perforation. 
Splash was originally named Katak, until his name was later changed. Nootka 5 cared for her son well. Unfortunately, it was soon discovered that Splash suffered from epilepsy. When he was two, it was decided to move him to SeaWorld San Diego for better medical treatment. He was given medication to help control seizures. He met other whales here and got along well with Corky 2 and Orkid. Corky acted as his surrogate mother and Orkid was a great playmate for him, being only a year older.
Splash and Orkid were often seen together. In 1995, Splash had a seizure and hit his jaw against a gate. Orkid and Kasatka assisted him, keeping him at the surface of the pool. Splash recovered from this, but his jaw was left slightly damaged and appeared abnormal from how it had before the accident.
In 1999, Keet, Keto and Sumar moved to San Diego. All four males did well together, but Keet and Keto moved out a year later. Sumar stayed at the park and he and Splash became close friends. Splash was a very reliable performer and often participated in waterworks. He got along well with most whales and enjoyed his trainers company. When he was younger, he mouthed a trainer's leg. He was also involved in an incident in 2002 with Orkid. When a trainer continually touched her foot on Orkid's rostrum, Orkid pulled the trainer into the water. The trainer was able to get out of the water when they opened a gate to where, Kasatka, the dominant whale was. Orkid let go of the trainer after this, though the trainer had a broken arm.
Sadly, in April 2005, Splash became ill. Veterinarians attempted to treat him with antibiotics, but he passed away on April 5. He passed away from gastrointestinal perforation. Sadly, antibiotics would not have cured this. 
Sex-Male
Aged-15
Birthday-8/15/89
Birthplace-Marineland Canada
Date of Death-4/5/05
Place of Death-SeaWorld San Diego
Cause of Death-Gastrointestinal Perforation
Family
Parents
Sisters
Neocia (1992)*, Malik (1996)*, Nootka 5's Calf (1998)*, April (2004)*
Half Sisters
Brothers
Half Brothers
Kiska's Calf (1992)*, Kanuck (1994)*, Nova (1996)*, Hudson (1998)*
Unknown Siblings
Nootka 5's Miscarriage (2001)*, Neocia's Miscarriage (2004)*, Nootka 5's Miscarriage (2006)*
Niece/Nephew
Originally Named
Origin of Splash
A Crash of Water
Pronounced: sp LASH
Origin of Katak
Greek for "Pure"
Pronounced: kah TAK
Weights
2,500 lbs (1992)
5,150 (2003)
5,500 (2004)
6,500 (2005)
Lengths
18 ft (2003)
19 ft (2005)
Breed
Subcategories
This category has only the following subcategory.
Ad blocker interference detected!
Wikia is a free-to-use site that makes money from advertising. We have a modified experience for viewers using ad blockers

Wikia is not accessible if you've made further modifications. Remove the custom ad blocker rule(s) and the page will load as expected.