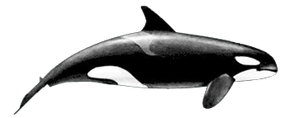 Scarredjaw Cow was an adult female orca who was captured on March 1, 1970. She was estimated to be at least 8 years old, but likely older. She passed away on May 15, 1970 at Sealand of the Pacific.
Scarredjaw Cow was captured along with Nootka and Chimo. It was thought that Chimo may have been Scarredjaw Cow's daughter, though this has not been confirmed. 
Sex-Female
Aged-8+
Captured-3/1/70
Age at Capture-Approximately 8+
Place of Capture-BC, Canada
Date of Death-5/15/70
Place of Death-Sealand of the Pacific
Family
Calf
Also Known as
Breed
Subcategories
This category has only the following subcategory.