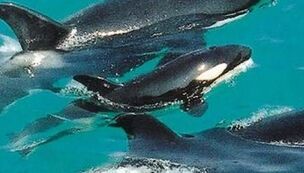 Sarah was a 2 year old female orca who was born on May 31, 2003 at Kamogawa Sea World. Her mother is 
Stella
 and her father is 
Bingo
. She passed away from an unknown illness on April 26, 2006.
Sarah was well cared for by her mother Stella. She also had two older sisters, Lovey and Lara, who helped take care of Sarah. Sarah also met her father and another male named Oscar. Although she was young, Sarah participated in shows with the other whales. She learned simple behaviors, such as bows and sliding out.
In May 2005, Sarah came down with an illness. She later recovered later that August. Sadly, she became ill again in April 2006. Veterinarians attempted to treat the illness, but she passed away on April 26. It is not known if she battled the same illness as in 2005 or if they were two different illnesses. Her cause of death has never been announced. 
Sex-Female
Aged-2
Birthday-5/31/03
Birthplace-Kamogawa Sea World
Date of Death-4/26/06
Place of Death-Kamogawa Sea World
Cause of Death-Unknown Illness
Family
Parents
Sisters
Lovey (1998), Lara (2001), Ran 2 (2006), Lynn (2012)
Niece
Nephew
Origin of Sarah
Hebrew for "Princess"
Pronounced: sar AH
Breed
Subcategories
This category has only the following subcategory.
Ad blocker interference detected!
Wikia is a free-to-use site that makes money from advertising. We have a modified experience for viewers using ad blockers

Wikia is not accessible if you've made further modifications. Remove the custom ad blocker rule(s) and the page will load as expected.