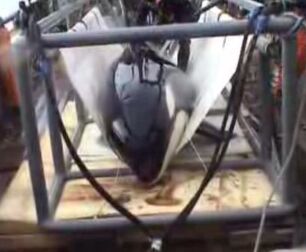 On September 26, 2003, fisherman in Russia attempted to capture killer whales. One female orca was captured, while another is said to have died in the process of being captured. The female who survived, was estimated to be about 5 years old.
She stayed in a sea pen at first, but was soon moved to the Utrish Dolphinarium. There, she was also kept in a sea pen, but she ended up becoming ill and passing away on October 24, 2003. Her cause of death was the morbillivirus.
Sex-Female
Aged-5
Captured-9/26/03
Age at Capture-Approximately 5
Place of Capture-Kamchatka, Russia
Date of Death-10/24/03
Place of Death-Utrish Dolphinarium
Cause of Death-Morbillivirus
Family
Weights
Lengths
Breed
Subcategories
This category has only the following subcategory.
Ad blocker interference detected!
Wikia is a free-to-use site that makes money from advertising. We have a modified experience for viewers using ad blockers

Wikia is not accessible if you've made further modifications. Remove the custom ad blocker rule(s) and the page will load as expected.