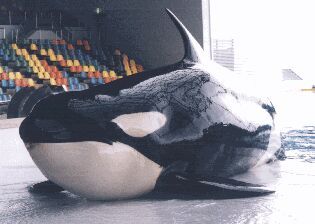 Ruka was a 20 year old female orca who was captured in Iceland in October 1981. She passed away at Nanki Shirahama Adventure World on March 29, 2000.
A couple months after Ruka was captured, she was sold to Tierpark Hagenbeck. She became very popular, but eventually people became less interested. As a result, it was decided to sell her and she was purchased by Nanki Shirahama Adventure World in 1985. There she met Benkei and Goro. She performed at the park and got along well with her tank mates. Benkei passed away a few years later in 1989, but soon Ai and Ran moved to the park. She got along well with them too. Three more orcas moved to the park in 1997, though too passed away soon after. Eventually, it was just Goro, Ran, Kyu and Ruka. The four performed together and got along well. 
Sadly, Ruka passed away suddenly after a show from traumatic shock.
Sex-Female
Aged-20
Captured-10/--/81
Age at Capture-Approximately 2
Place of Capture-Selvogsbanki, Iceland
Date of Death-3/29/00
Place of Death-Nanki Shirahama Adventure World
Cause of Death-Traumatic Shock
Family
Origin of Ruka
Japanese for "Bright Blue Flower"
Pronounced: roo KAH
Also Known as 
Breed
Subcategories
This category has only the following subcategory.
Ad blocker interference detected!
Wikia is a free-to-use site that makes money from advertising. We have a modified experience for viewers using ad blockers

Wikia is not accessible if you've made further modifications. Remove the custom ad blocker rule(s) and the page will load as expected.