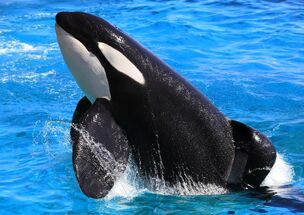 Oscar, also known as Wolfie, was a 27 year old male orca who lived at Kamogawa Sea World. He was captured in Iceland in 1987. On December 20, 2012 Oscar passed away.
Oscar lived with two mates, Lovey and Lara, a son named Earth, and a daughter named Luna. Since his daughter was born, he stayed in the back pool of the orca stadium, though he had spent a lot of time around young calves. He sired his first calf Earth in 2008.
Sex-Male
Aged-27
Captured-October 1987
Age at Capture-Approximately 1
Place of Capture-Seydisfjordur, Iceland
Date of Death-12/20/12
Place of Death-Kamogawa Sea World
Cause of Death-Unknown Illness
Family
Calves
Origin of Oscar
English for "Divine Spear"
Pronounced: os CAR
Origin of Wolfie
Teutonic for "Wolf Strife"
Pronounced: wool FEE
Also Known as
Weights
7,055 lbs or 3,200 Kg (July 2012)
Lengths
19 ft or 5.8 M (July 2012)
Breed

Oscar was a gentle orca. He did well around the calves at the park and before his daughter was born, he could be seen with Lovey, Lara and Earth. He was the largest orca and only adult male living at Kamogawa at the time of his death. He was also trained in waterworks like the other orcas at the park.
All items (1)