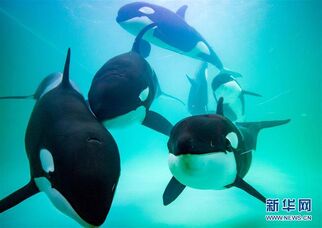 Nukka is an orca who was captured in Russia and lives at Chimelong Ocean Kingdom. Nukka's age and sex have not been confirmed, but Nukka is assumed to be a female. Nukka means "younger sister" in Inuit. It is known that, as of February 2017, Nukka has grown by over 4 feet since being in human care. So far, it is not known which whale Nukka is.
Sex-Female?
Age-5 to 13
Captured-Between 2013-2015
Age at Capture-Unknown
Place of Capture-Sea of Okhotsk, Russia
Family
Origin of Nukka
Inuit for "Younger Sister"
Pronounced: nuh KAH
Breed
Pages in category "Nukka"
This category contains only the following page.
Ad blocker interference detected!
Wikia is a free-to-use site that makes money from advertising. We have a modified experience for viewers using ad blockers

Wikia is not accessible if you've made further modifications. Remove the custom ad blocker rule(s) and the page will load as expected.