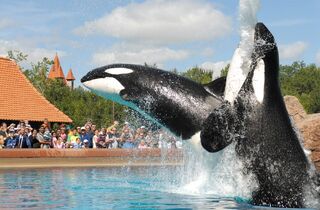 Nootka 5 was a female orca who was captured from Iceland in October 1981. She passed away on January 8, 2008.
After Nootka's capture, she was sent to the Hafnarfjordur Aquarium where she stayed with five other whales. A month and a half after her capture she was sold to Marineland Canada. Nootka was soon trained and performed in shows at King Waldorf Theatre. In Early 1988, Nootka became pregnant with her first calf after mating with the park's adult male Kandu 7. On August 15, 1989, Nootka gave birth to a male calf at King Waldorf Theatre. Originally, her calf had been named Katak. Eventually he was renamed Splash. Sadly, Splash suffered from epilepsy and had seizures. In April 1992, Splash was moved to SeaWorld San Diego for better medical treatment.
On October 21, 1992, Nootka gave birth to her second calf. The calf was a female and was named Neocia. When Neocia was older, she performed at King Waldorf Theatre while her mother went to the newly constructed Friendship Cove killer whale habitat. Neocia became pregnant with her first calf but had a miscarriage in 2004. On April 21, 1996, Nootka gave birth to another female calf named Malik. Sadly, Malik suffered from an immune system disorder and Nootka would attempt to drown her calf to end her suffering. This resulted in the two being separated at times and Malik would join her father Kandu 7. Malik passed away on March 7, 2000 after her immune system failed.
Nootka gave birth again on May 27, 1998 to her third daughter. Sadly, the calf passed away soon after on June 7. Nootka became pregnant with her fifth calf soon after giving birth to her previous calf. Her calf, a male, was born on December 18, 1999. He was later named Algonquin. Nootka 5 went on to become pregnant three more times. Two of her calves were miscarried. The other was a female nicknamed April. She passed away before she could officially be named.
Nootka was known as a rather dominant orca. She didn't always get along with Kiska and would sometimes displace Kiska's calves. She did very well with her own calves though. Sometimes she would displace them, but it was usually when she was having issues with Kiska. Nootka was a smart whale and new many behaviors. She sometimes refused to perform but she also put a lot of energy into shows.
Sadly, Nootka passed away on January 8, 2000 at Marineland Canada. The cause of death has never been announced.
Sex-Female
Aged-28
Date of Capture-10/--/81
Age at Capture-Approximately 2
Place of Capture-Medallandsbugt, Iceland
Date of Death-1/8/08
Place of Death-Marineland Ontario
Cause of Death-Unknown
Family
Calves
Grandchildren
Origin of Nootka
Inuit for "Little Anna"
An American Indian of Vancouver Island, Canada
Pronounced: noot KAH
Weights
1,395 lbs (1981)
5,500 lbs (2001)
Lengths
11.1 ft (1981)
20 ft (2001)
Breed
Subcategories
This category has only the following subcategory.
Ad blocker interference detected!
Wikia is a free-to-use site that makes money from advertising. We have a modified experience for viewers using ad blockers

Wikia is not accessible if you've made further modifications. Remove the custom ad blocker rule(s) and the page will load as expected.