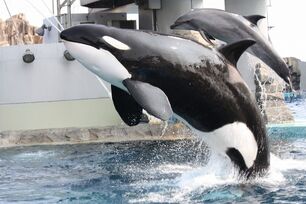 Nami was a female orca who was captured in Japan in 1985. She lived at the Port of Nagoya Public Aquarium at the time of her death on January 14, 2011.
From the time of her capture up until June 2010, Nami had lived in a seapen at the Taiji Whaling Museum. Trainers never entered the water with Nami due to her dominant personality. She also did not get along with Taiji's other female orca Ku or any dolphins she was ever grouped with.
Sex-Female
Aged-25
Captured-October 1985
Age at Capture-Approximately 3
Place of Capture-Taiji, Japan
Date of Death-1/14/11
Place of Death-Port of Nagoya Public Aquarium
Cause of Death-Pneumonia/ Fungal Infection
Family
Origin of Nami
Breed
Once Nami was transferred to Nagoya, she did befriend a dolphin. Nagoya had plans with Kamogawa Sea World to transfer two of their orcas, Bingo and Stella, to the aquarium in 2011. It was hoped that Bingo and Nami would produce a calf. Due to the Tsunami that occurred, the transfer was set back, only for Nami to pass away from an illness in January 2011.
Subcategories
This category has only the following subcategory.
Ad blocker interference detected!
Wikia is a free-to-use site that makes money from advertising. We have a modified experience for viewers using ad blockers

Wikia is not accessible if you've made further modifications. Remove the custom ad blocker rule(s) and the page will load as expected.