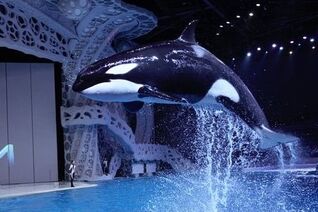 Naja, also known as Malishka or Juliet, is a 7 year old female orca who lives at the Moskvarium. She was captured in Russia, possibly in July 2014 .
On December 21, it was confirmed that she had joined orcas Narnia and Nord at the new aquarium. She may have lived in Sochi prior to her arrival. She spends a lot of time with Narnia and Nord and performs with them often. She is in training for waterworks. It was confirmed in August 2017, that her official name is Naja. She had been known as Malishka and Juliet before. Juliet is her stage name.
Sex-Female
Age-7
Captured-7/--/14
Age at Capture-Approximately 4
Place of Capture-Okhotsk Sea, Russia
Family
Origin of Naja
Arabic for "Rescue" or "Escape"
Pronounced: nae JAH

Origin of Malishka/Malyshka
Russian for "Little Girl"
Pronounced: mal ISH kah

Origin of Juliet
French for "Youthful"
Pronounced: joo LEE ett
Weight
2,200 lbs (December 2014)
Breed
Pages in category "Naja"
This category contains only the following page.
Ad blocker interference detected!
Wikia is a free-to-use site that makes money from advertising. We have a modified experience for viewers using ad blockers

Wikia is not accessible if you've made further modifications. Remove the custom ad blocker rule(s) and the page will load as expected.