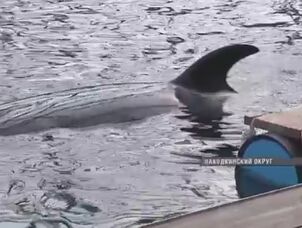 Malvina is a young female orca who is estimated to be about 5 years old. She arrived to the TINRO center in the summer or fall 2015 and so it is assumed she is one of three orcas captured in Russia in July 2015. Her age and capture date have not been confirmed though and is just speculation.
Little is known about Malvina, though it has been mentioned by TINRO that she is afraid of people she does not know. They also mentioned that she is from a mammal-eating pod of killer whales, otherwise known as Transients. Her location is unknown. She may be at Chimelong, Dalian or Linyi, though there is new information that she may have escaped or passed away in late 2016. Nothing has been confirmed.
Sex-Female
Age-5
Captured-7/--/15?
Age at Capture-Approximately 3
Place of Capture-Okhotsk Sea, Russia
Family
Compatible Mates
Ulises, Kshamenk, Kyuquot, Keet, Keto, Inouk, Tuar, Tekoa, Nakai, Ikaika, Tyson, Orpheus, Trua, Earth, Nord, Makaio, Adan, Moana, Makani, Keijo
Origin of Malvina
Irish for "Sweet"
Latin for "Sweet Friend"
Pronounced: mal VEEN uh
Breed
Pages in category "Malvina"
This category contains only the following page.
Ad blocker interference detected!
Wikia is a free-to-use site that makes money from advertising. We have a modified experience for viewers using ad blockers

Wikia is not accessible if you've made further modifications. Remove the custom ad blocker rule(s) and the page will load as expected.