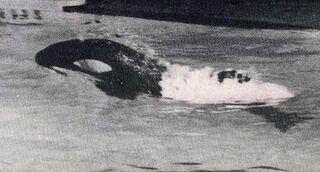 Malik was a 3 year old female orca who was born at Marineland Canada on April 21, 1996. Her mother was Nootka 5 and her father was Kandu 7. She passed away on March 4, 2000.
Malik was born at the park's King Waldorf Theatre. When she got a little older, she may have spent time at the warehouse, which was an indoor pool where Marineland housed animals when they needed more space or when the animals were new to the park. A new killer whale tank, known as Friendship Cove, was built and opened in 1998. Malik and some of the other whales were moved to the new tank once it was completed.
Malik was born with a weakened immune system and had health problems throughout her life. Her mother attacked her at times, which is sometimes done out of instinct to end the calf's suffering. This resulted in them being separated at times. Malik was placed with Kandu 7 for companionship when this occurred, and Kandu did very well with her. Sadly, Malik's immune system failed and she passed away on March 4, just before her fourth birthday.
Sex-Female
Aged-3 
Birthday-4/21/96
Birth Place-Marineland Canada
Date of Death-3/4/00
Place of Death-Marineland Canada
Cause of Death-Immune System Failure
Family
Parents
Sisters
Neocia (1992)*, Nootka 5's Calf (1998)*, April (2004)*
Half Sisters
Brothers
Splash (1989)*, Algonquin (1999)*
Half Brothers
Kiska's Calf (1992)*, Kanuck (1994)*, Nova (1996)*, Hudson (1998)*
Unknown Sibling
Nootka 5's Miscarriage (2001)*, Neocia's Miscarriage (2004)*, Nootka 5's Miscarriage (2006)*
Niece/Nephew
Origin of Malik
Arabic for "Sovereign"
Pronounced: mah LEEK
Weights
350 lbs (April 1996)
2,300 lbs (2000)
Lengths
7 ft (April 1996)
13.9 ft (2000)
Breed
Subcategories
This category has only the following subcategory.
Ad blocker interference detected!
Wikia is a free-to-use site that makes money from advertising. We have a modified experience for viewers using ad blockers

Wikia is not accessible if you've made further modifications. Remove the custom ad blocker rule(s) and the page will load as expected.