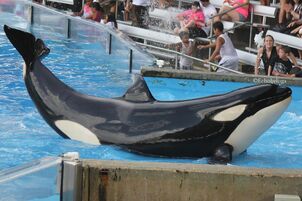 Makaio is an 8 year old male orca who lives at SeaWorld Orlando. He was born on October 9, 2010. His mother is 
Katina
and his father is 
Tilikum
, making him the 4th calf born to the pair and Katina's 7th calf. He is the youngest orca living in Orlando and the most recent to be born at the park. He was born just after Katina's first calf Kalina had passed away on October 4th.
Makaio joins the other orcas in shows. He is learning more advanced behaviors as he grows, though he is not as quick to pick up on new behaviors.
Sex-Male
Age-8
Birthday-10/9/10
Birth Place-SeaWorld Orlando
Type of Birth-Tail First
Time of Birth-7:28 PM (EDT)
Length of Labor-45 Minutes
Family
Parents
Sister
Half Sisters
Kalina (1985)*, Katerina (1988)*, Nyar (1993)*, Kohana (2002), Skyla (2004), Nalani (2006), Malia (2007), Sakari (2010)
Brothers
Taku (1993)*, Ikaika (2002)
Half Brothers
Kyuquot (1991), Sumar (1998)*, Tuar (1999), Tekoa (2000), Nakai (2001)
Nieces
Skyla, Kalia, Halyn*, Nalani, Victoria*, Amaya, Kyara*
Nephews
Keet, Keto, Tuar, Trua, Adan
Origin of Makaio
Hawaiian for "Gift of God"
Pronunciation-ma KY o
Nicknames
Other Names Considered
Haruki ("Shining Brightly" in Japanese)
Nico ("Victory" in Greek)
Weights
350 lbs (October 2010)
550 lbs (December 2010)
1,300 lbs (September 2012)
2,000 lbs (March 2015)
2,300 lbs (March 2016)
2,800 lbs (July 2017)
Lengths
7 ft (October 2010)
13 ft (March 2016)
Breed

He can be seen with any member of the pod, though he has been spending most of his time with Trua. He was also one of the few younger orcas who met Tilikum.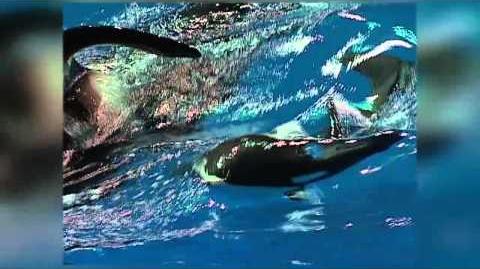 Trending pages
All items (1)