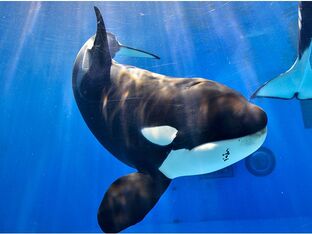 Lynn is a 5 year old female orca who was born on November 13, 2012. Her mother is Stella and her father is Bingo. Bingo and Ran assisted Stella through the birth. Lynn is the first orca to be born at Nagoya.
Unlike most killer whale births, Lynn was born head first, while most are born tail first. What makes this even more unique is that Stella's fourth calf, Ran, was also born head first.
On June 17, 2013, it was announced she had been named Lynn after 7 months of Nagoya choosing from names that had been suggested by the public. It was orginally thought that she had been named Rin.
Lynn grew up spending a lot of time with her older sister Ran. In December 2015, Ran was moved back to Kamogawa. Earth moved to Nagoya and now spends a lot of time with Lynn. 
Sex-Female
Age-5
Birthday-11/13/12
Birth Place-Port of Nagoya Public Aquarium
Type of Birth-Head First
Time of Birth-10:24 (JST)
Family
Parents
Sisters
Lovey (1998), Lara (2001), Sarah (2003)*, Ran 2 (2006)
Nephew
Niece
Weight
370 lbs (November 2012)
660 lbs (March 2013)
750 lbs (April 2013)
926 lbs (June 2013)
1,980 lbs (July 2015)
2,100 lbs (April 2016)
Length
6.5 ft (November 2012)
8.2 ft (March 2013)
8.7 ft (April 2013)
9.35 ft (June 2013)
12.1 ft (July 2015)
12.8 ft (April 2016)
Also Known as
Breed
Pages in category "Lynn"
This category contains only the following page.