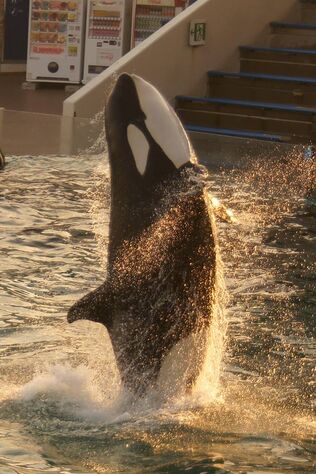 Luna is a 5 year old female orca who was born on July 19, 2012 at Kamogawa Sea World. Her mother is 
Lovey
and her father is
Oscar
. Luna can be seen swimming alongside her mother and Lara during performances. On November 23, 2012, it was announced she had been named Luna. Kamogawa nicknamed her Mars until she was named.
Sex-Female
Age-5
Birthday-7/19/12
Birth Place-Kamogawa Sea World
Type of Birth-Tail First
Family
Parents
Grandparents
Brother
Aunts
Lara, Sarah*, Ran 2, Lynn
Origin of Luna
Latin for "Moon"
Pronouced: loo NUH
Nicknames
Other Names Considered
Sky
Aqua
Peace
Kizuna meaning "Bond" or "Connection" in Japanese
Weights
350 lbs or 159 Kg (July 2012)
617 lbs or 280 Kg (November 2012)
Lengths
6 ft or 1.8 M (July 2012)
9 ft or 2.8 M (November 2012)
Breed
Luna can be seen alongside Lovey and Lara. After her birth, Oscar was moved to the back tank. It is unknown if she ever met her father, as he died when she was 5 months old. She spent time with Earth when she was younger, but because he would play too rough with her, they were often kept separated. On December 7, 2015, she met her aunt Ran 2 when she moved back to Kamogawa.
Pages in category "Luna"
This category contains only the following page.
Ad blocker interference detected!
Wikia is a free-to-use site that makes money from advertising. We have a modified experience for viewers using ad blockers

Wikia is not accessible if you've made further modifications. Remove the custom ad blocker rule(s) and the page will load as expected.