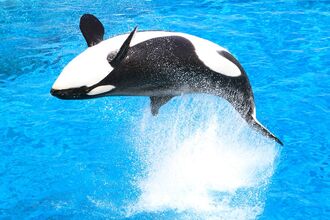 Lovey is a 19 year old female orca who lives at Kamogawa Sea World. She was born there on January 11, 1998 to Stella and Bingo. She was the first orca calf to be successfully born in Japan.
Lovey has witnessed the birth of three of her younger sisters, so she already had experience with helping her mother take care of a calf before she gave birth for the first time. She gave birth to her first calf, a male named Earth, on October 13, 2008. Earth moved to Port of Nagoya on December 7, 2015. 
Sex-Female
Age-19
Birthday-1/11/98
Birth Place-Kamogawa Sea World
Type of Birth-Tail First
Family
Parents
Calves
Sisters
Lara (2001), Sarah (2003)*, Ran 2 (2006), Lynn (2012)
Origin of Lovey
English for "Loved One"
Pronunciation-love EE
Also Known as
Weights
4,850 lbs or 2,200 kg (July 2012)
Lengths
6.5 ft or 2 M (January 1998)
16.7 ft or 5.1 M (July 2012)
Breed
In November 2011, it was announced that she was expecting her second calf. She successfully gave birth to her daughter, Luna, on July 19, 2012. Her younger sister Lara assisted her during labor and Luna is doing well. She can be seen alongside her mother in shows. Now that Kamogawa has no males for there females to breed with, they have began training Lovey for artificial insemination. Kamogawa will most likely work with SeaWorld to find a male.
In December 2011, her mother moved to Port of Nagoya and Lovey took over the role of the matriarch and dominant orca. She is a very loving whale and performs waterworks with her trainers. She has been a great mom to her calves.
Pages in category "Lovey"
This category contains only the following page.
Ad blocker interference detected!
Wikia is a free-to-use site that makes money from advertising. We have a modified experience for viewers using ad blockers

Wikia is not accessible if you've made further modifications. Remove the custom ad blocker rule(s) and the page will load as expected.