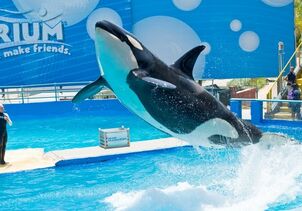 Lolita, also known as Tokitae, is a 51 year old female orca who lives at the Miami Seaquarium. She was captured on August 8, 1970. Some of the orcas she was captured along with were Lil' Nooka, Ramu 4, Wally, Clovis, Chappy, Jumbo and Winston. It is possible she was related to these orcas. If she was related to Winston, she would have captive born family members.
Sex-Female
Age-51
Captured-8/8/70
Age at Capture-Approximately 4
Place of Capture-Penn Cove, WA
Family
Parents
Half Sister
Possible relatives through Winston-Kalina*, Baby Shamu 2*, Keet, Keto, Tuar, Skyla, Kalia, Halyn*, Adan, Victoria* and Amaya.
Origin of Lolita
Spanish for "Strong Woman"
Pronunciation-lo LEE tah
Also Known as
Weight
Length
Breed
Lolita only lived with one orca after she moved to Miami and his name was Hugo. The two conceived an unknown number of calves but none survived. In 1980, Hugo died and left Lolita as the lone orca. Lolita now lives with several Pacific White Sided Dolphins, who she performs with.
Lolita is one of the oldest orca in captivity. Lolita is very close to her trainers and spends a lot of time with them. Though the park owner has continually said he would build a larger orca tank throughout the years, he has never done so. She lives in a very small and old tank but she seems to be very well taken care of otherwise and healthy.
Pages in category "Lolita"
This category contains only the following page.
Ad blocker interference detected!
Wikia is a free-to-use site that makes money from advertising. We have a modified experience for viewers using ad blockers

Wikia is not accessible if you've made further modifications. Remove the custom ad blocker rule(s) and the page will load as expected.