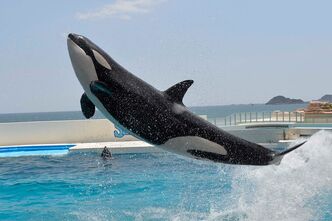 Lara is a 17 year old female orca who lives at Kamogawa Sea World where she was born on February 8, 2001. Her mother is Stella and her father is Bingo.
Lara spends a lot of time with Lovey, Earth, and Luna. Lara has witnessed many births and has helped her mother and Lovey take care of their calves. Lara does very good with calves as she has had a lot of experience around them. She is also trained in waterworks and has never shown aggression to her trainers.
Sex-Female
Age-17
Birthday-2/8/01
Birth Place-Kamogawa SeaWorld
Type of Birth-Tail First
Family
Parents

Sisters
Lovey (1998), Sarah (2003)*, Ran 2 (2006), Lynn (2012)

Nephew

Niece
Origin of Lara
Greek for "Cheerful" or "Happy"
Weights
350 lbs (February 2001)
4,410 lbs (April 2013)
4,850 lbs (February 2016)

Lengths
7 ft (February 2001)
16.4 (April 2013)
17.3 ft (February 2016)
Breed
Lara has yet to have a calf, but she is currently being trained for artificial insemination. 
Pages in category "Lara"
This category contains only the following page.