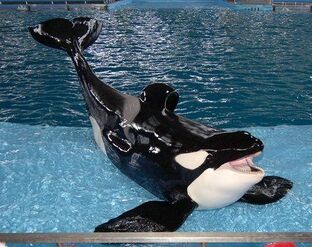 Kyuquot is a 25 year old male orca who lives at SeaWorld San Antonio. His mother is Haida 2 and his father is Tilikum. He was born on Christmas Eve 1991 at Sealand Victoria.
Ky only lived here for a short amount of time. A trainer had fallen into the pool and drowned. Soon after, him, his parents, and another female all moved to SeaWorld parks. Kyuquot was very close to his mother, who died in 2001. Over time, Ky became very close to several females who came to Texas, though he has not sired any calves.
Sex-Male
Age-25
Birthday-12/24/91
Birth Place-Sealand Victoria, BC
Type of Birth-Tail First
Time of Birth-12:40 (PST)
Family
Parents
Half Brothers
Taku (1993)*, Sumar (1998)*, Tuar (1999), Tekoa (2000), Nakai (2001), Ikaika (2002), Makaio (2010)
Half Sisters
Nyar (1993)*, Haida 2's Calf (1994)*, Unna (1996)*, Kohana (2002), Skyla (2004), Malia (2007), Sakari (2010)
Nieces
Nephews
Compatible Mates
Katina, Kasatka, Kiska, Stella, Orkid, Kayla, Takara, Shouka, Lovey, Lara, Wikie, Kalia, Ran, Narnia, Morgan, Malishka, Nukka, Grace, Malvina, Luna, Lynn, Kamea, Amaya
Origin of Kyuquot
Nootka for "Land of Many Winds"
Pronunciation-ky YOU kit
Nicknames
Weights
350 lbs (December 1991)
2,000 lbs (November 1994)
8,200 lbs (December 2011)
8,300 lbs (June 2012)
9,300 lbs (March 2015)
Lengths
7 ft (December 1991)
22 ft (March 2015)
Breed

He used to perform waterworks, though after several incidents, he was not allowed to anymore. Ky is a very large male and can still do many athletic behaviors such as front flips. He is the largest orca at San Antonio, weighing over 9,000 pounds. He is a reliable whale and is most often grouped with Tuar, though he likes spending time with Takara and can be seen with any of his pod mates.
Pages in category "Kyuquot"
This category contains only the following page.
Ad blocker interference detected!
Wikia is a free-to-use site that makes money from advertising. We have a modified experience for viewers using ad blockers

Wikia is not accessible if you've made further modifications. Remove the custom ad blocker rule(s) and the page will load as expected.