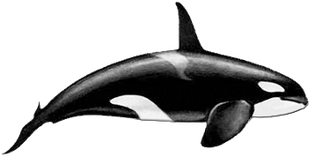 Kyu was a 12 year old male orca who was captured in Japan on February 9, 1997. He passed away on September 18, 2004.
Immediately after his capture, Kyu was purchased by Nanki Shirahama Adventure World along with two others who passed away a few months after the move. For a few months after, he stayed in the back tank. Eventually he met Goro, Ruka and Ran. The four performed together and he did well with his pod mates. 
Kyu went on to mate with Ran and she became pregnant. On August 26, 2004, she gave birth to what was presumed to be a female calf. Sadly, the calf was born prematurely and suffered from a broken skull. She passed away two days later on August 28. Kyu met his daughter before she passed away. Ran passed away a day after the calf.
Kyu came down with bacterial pneumonia several weeks later and passed away on September 18, 2004.
Sex-Male
Aged-12
Captured-2/9/97
Age at Capture-Approximately 5
Place of Capture-Hatajiri Bay, Japan
Date of Death-9/18/04
Place of Death-Nanki Shirahama Adventure World
Cause of Death-Bacterial Pneumonia
Family
Calf
Origin of Kyu
Japanese for "Nine"
Pronounced: cue
Breed
Subcategories
This category has only the following subcategory.
Ad blocker interference detected!
Wikia is a free-to-use site that makes money from advertising. We have a modified experience for viewers using ad blockers

Wikia is not accessible if you've made further modifications. Remove the custom ad blocker rule(s) and the page will load as expected.