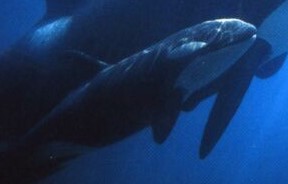 Kiva was a newborn female orca who ws born at Marineland of the Pacific on June 16, 1982. Her mother is Corky 2 and her father is Orky 2. She passed away on August 3, 1982.
Unlike her two older brothers, Kiva made attempts at nursing soon after birth. Sadly, Corky still did not know how to nurse her calf. Trainers and veterinarians decided to tube feed her and Kiva gained weight. Corky would keep a close eye on her daughter, but allow the trainers to do so. Even though, Corky became very protective of her calf and would handle her roughly. Kiva was playful and active at times. Corky ended up becoming too rough and the two were separated. Sadly, a few days after the separation, Kiva became ill and passed away.
Sex-Female
Aged-1 Month
Birthday-6/16/82
Birthplace-Marineland California
Date of Death-8/3/82
Place of Death-Marineland California
Cause of Death-Respiratory Failure
Family
Parents
Sister
Half Sisters
Orkid (1988), Kayla (1988)
Brothers
Corky's Calf (1977)*, Spooky (1978)*
Unknown Siblings
Corky's Stillborn (1980)*, Corky's Miscarriage (1986)*, Corky's Miscarriage (1987)*
Niece
Nephew
(Note: To see this orca's extended wild family, go to Corky 2's Profile.)
Origin of Kiva
Hebrew for "Protected"
Pronounced: kee VAH
Breed
Subcategories
This category has only the following subcategory.
Ad blocker interference detected!
Wikia is a free-to-use site that makes money from advertising. We have a modified experience for viewers using ad blockers

Wikia is not accessible if you've made further modifications. Remove the custom ad blocker rule(s) and the page will load as expected.