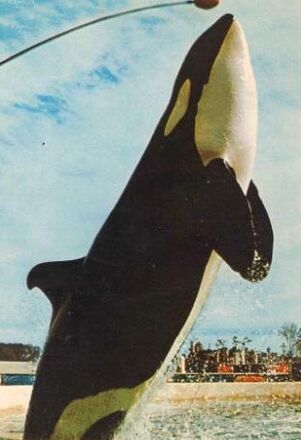 Kianu, also known as Clyde, was a 20 year old female orca who lived at Nanki Shirahama Adventure World. She was captured in Canada in April 1968 and died in June 1980.
Kianu was captured along with seven other pod mates. Soon after her capture, she and pod mate Bonnie, moved to Marine World Redwood City. At the time of the move, it was suspected both females were pregnant. A month after the move, Bonnie gave birth to a stillborn calf and she passed away two weeks later. Kianu was alone, and she eventually gave birth to a stillborn calf in 1968. Both calves were conceived while the mothers still lived in the wild.
Eventually, Kianu met Nepo and Yaka. Kianu became fond of Nepo to the point she would become aggressive to Yaka. The park decided to send Kianu to Nanki Shirahama after this. At the time of her arrival, she was the only orca at the park. In 1979, three orcas came to the park. Only one survived, a male named Benkei. Unfortunately, Kianu passed away in June 1980 from a gastrointestinal disease.
Sex-Female
Aged-20
Captured-4/--/68
Age at Capture-Approximately 8
Place of Capture-Pender Harbor, BC
Date of Death-6/--/80
Place of Death-Nanki Shirahama Adventure World
Cause of Death-Gastrointestinal Disease
Family
Calves
Origin of Kianu
Hawaiian for "Cool Breeze"
Pronounced: kee AH noo
Breed
Subcategories
This category has only the following subcategory.
Ad blocker interference detected!
Wikia is a free-to-use site that makes money from advertising. We have a modified experience for viewers using ad blockers

Wikia is not accessible if you've made further modifications. Remove the custom ad blocker rule(s) and the page will load as expected.