Kayla
Talk

0
38pages on
this wiki
Category page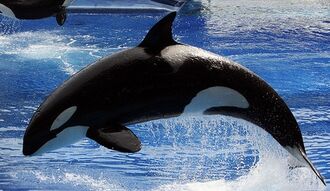 Kayla is a 25 year old female orca who lives at SeaWorld Orlando. Her mother is
Kenau
and her father is
Orky 2
. She was the first killer whale to be born in SeaWorld San Antonio.
In 1991, Kayla moved to SeaWorld Ohio with a young female named Katerina. A few years later Winnie moved in. After a few years performing together they were both moved to SeaWorld San Antonio. She became close with a young male named Keet and soon mated with him and became pregnant with her first calf. On October 9, 2005, she gave birth to her daughter Halyn. Unfortunately, Kayla had never learned how to take care of a calf and rejected Halyn and she had to be raised by the trainers. Sadly Halyn died on June 15, 2008.
It was decided to send Kayla to SeaWorld of Orlando in November 2006 to learn how to take care of a calf from the experienced moms living there. At the time she arrived there were two young calves living with there mothers and another on the way. Since then another calf was born in 2010.
In March 2012, a research blogger named Tim Zimmermann reported that SeaWorld was going to try to impregnant Kayla through artificial insemination with a male orca named Kshamenk. In late May he followed up saying that they still have plans to AI her but that she doesn't cycle normally so it is unknown as to when she will be able to get pregnant, if she has been AI'ed, and if so, was it successful.
Sex-Female
Age-25
Birthday-11/26/88
Birth Place-SeaWorld San Antonio
Family
Parents
Calf
Half Sisters
Kiva (1982)*, Corky's Calf (1985)*, Baby Shamu 2 (1986)*, Orkid (1988)
Half Brothers
Corky's Calf (1977)*, Spooky (1978)*, Kenau's Unborn Fetus (1991)*
Unknown Siblings
Corky's Stillbirth (1980)*, Corky's Miscarriage (1986)*, Corky's Miscarriage (1987)*
Compatible Mates
Ulises, Tilikum, Kshamenk, Kyuquot, Keet, Keto, Valentin, Inouk, Tuar, Tekoa, Nakai, Ikaika, Trua, Earth, Makaio, Adan, Moana, Makani, Keijo
Origin of Kayla
Hebrew for "Who is like God"
English for "Pure"
Pronunciation-KAY la
Weight
​Length
Kayla is often grouped with Katina, Trua, Nalani, Malia and Makaio. She seems to like spending a lot of time with a young male named Trua. Trua's mom moved to another park in 2009 and it was decided to see how Kayla would do as a surrogate after rejecting her calf and they seem to have become closer over the years. She is grouped with the other young calves and gets along well with them too. Katina is the dominant orca at the park and will put Kayla in her place when she acts out. She has also been a great teacher when it comes to taking care of calves and how to run a pod. Kayla was very good at waterworks and did them often. She could often be seen doing waterworks with multiple whales.
Kayla loves her trainers attention and loves to please. She used to do waterworks before they were stopped in 2010 and was never aggressive with trainers though she did bump them a few times when she was younger. This usually occurred when she was cycling or pregnant and became moody. She has been a very gentle whale with her trainers and other orcas though she would be dominant towards the more submissive orcas. She displayed this a few times to Kalina.
Kayla is a very energetic whale and does great with the more advanced behaviors. She is very smart and will often be asked to incorporate multiple things into one behavior such as doing some sort of jump while vocalizing, thrashing her head, spitting water, waving her pecs, or doing multiples of those at once.
Pages in category "Kayla"
This category contains only the following page.