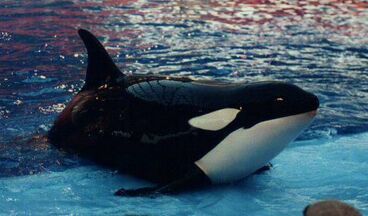 Katerina was a female orca who was born on November 4, 1988 at SeaWorld Orlando. Her mother is 
Katina
and her father is 
Kanduke
. She died on May 5, 1999.
Katerina grew up spending time with her mother and older half sister Kalina. She also spent time with her half sister Taima and her mother Gudrun. When she was two years old, she was moved to SeaWorld Aurora. There she met a female calf named Kayla who was the same age. Several years later, they were joined by an adult female named Winnie.
Sex-Female
Aged-10
Birthday-11/4/88
Birth Place-SeaWorld Orlando
Type of Birth-Tail First
Time of Birth-4:19 PM EST
Length of Labor-3 Hours
Date of Death-5/5/99
Place of Death-SeaWorld San Antonio
Cause of Death-Infection
Family
Parents
Half Sisters
Kalina (1985)*, Taima (1989)*, Unna (1996)*, Nalani (2006)
Half Brothers
Taku (1993)*, Ikaika (2002), Makaio (2010)
Nieces
Skyla, Kalia, Halyn*, Malia, Victoria*, Amaya
Nephews
Keet, Keto, Sumar*, Tuar, Tekoa, Trua, Adan
(Note: To see Katerina's extended wild family, go to Kanduke's Profile.)
Origin of Katerina
Russian for "Pure"
Pronounced: kat ER ee NAH
Breed
50% Icelandic
50% Transient
Soon after Winnie's arrival, Katerina was moved to SeaWorld San Antonio. She met her nephew Keet, whom she became very close with. Despite her young age, she played a surrogate role for Keet. 
Katerina was trained for waterworks and did well with her trainers and other whales. Unfortunately, on May 5, 1999, Katerina passed away from an infection. She had shown no signs of illness and passed away suddenly.
Subcategories
This category has only the following subcategory.
Ad blocker interference detected!
Wikia is a free-to-use site that makes money from advertising. We have a modified experience for viewers using ad blockers

Wikia is not accessible if you've made further modifications. Remove the custom ad blocker rule(s) and the page will load as expected.