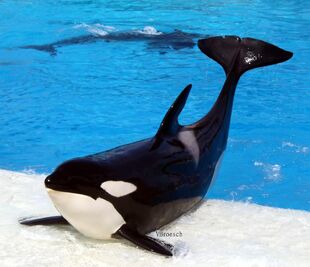 Kasatka is a 39 year old female orca who lives at SeaWorld San Diego. Kasatka was captured in 1978 in Iceland.
After living in the four SeaWorld parks open at the time, she finally ended up in SeaWorld San Diego where she has stayed since. She has gone on to have four calves here.
Her first calf was a female named Takara, born on July 9,1991. Takara gave birth to her first calf Kohana in 2002. In 2004, Takara and Kohana both moved to Orlando. Takara has had four more calves since. Kasatka became a great grandmother when Kohana gave birth to Adán in 2010.
On September 1, 2001, Kasatka gave birth to her second calf. He was named Nakai. He was the first orca to be conceived through artificial insemination. While Kasatka was in San Diego, the father Tilikum was in Orlando. This pregnancy was one of four featuring orcas on the Animal Planet show That's My Baby.
Her third calf was another female named Kalia. She was born on December 21, 2004. Kalia is also known as Great Grandbaby Shamu, as her great grandmother Katina gave birth to the original Baby Shamu Kalina. Kalia gave birth to her first calf on December 2, 2014. Her calf was named Amaya.
She gave birth to her fourth calf, Makani, on Valentine's Day 2013. His father is Kshamenk after being artificially inseminated in Summer 2011.
Sex-Female
Age-39
Captured-10/26/78
Age at Capture-Approximately 1
Place of Capture-Tvisker, Iceland
Family
Calves
Grandchildren
Great Grandchildren
Compatible Mates
Ulises, Kshamenk, Kyuquot, Keet, Keto, Inouk, Tuar, Tekoa, Ikaika, Tyson, Orpheus, Earth, Nord, Makaio, Moana, Keijo
Origin of Kasatka
Russian for "Orca" and "Killer Whale"
Pronounced: kuh SOT kuh
Nicknames
Weights
5,000 lbs (2009)
4,700 lbs (2010)
4,860 lbs (2015)
Lengths
Breed
Kasatka is the matriarch and dominant orca in her park. She keeps her pod in their places but can be aggressive to the less dominant orcas. She will also discipline her calves while other times she will let them get away with a lot. She is a very loving mother and has strong bonds with her calves. She has shown aggression to trainers before and after she attacked one in 2006, she hasn't been allowed to do waterworks. At the time of the attack, her calf Kalia was in another tank and was vocalizing which may have caused Kasatka to show aggression.
Pages in category "Kasatka"
This category contains only the following page.
Ad blocker interference detected!
Wikia is a free-to-use site that makes money from advertising. We have a modified experience for viewers using ad blockers

Wikia is not accessible if you've made further modifications. Remove the custom ad blocker rule(s) and the page will load as expected.