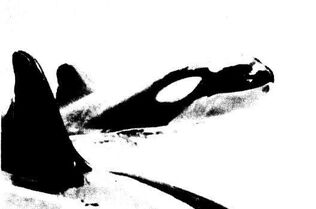 Kanuck was a 4 year old male orca who was born at Marineland Canada on August 28, 1994. His mother is Kiska and his father is Kandu 7. He passed away in 1998.
Kiska did very well with her new calf. Kanuck lived with his mother until he was moved to another area at Marineland known as the warehouse. The warehouse is an indoor tank the park housed cetaceans in. Eventually, he met some of his siblings here as well. Sadly, Kanuck passed away sometime in 1998 from traumatic shock.
Sex-Male
Aged-4
Birthday-8/28/94
Place of Birth-Marineland Canada
Date of Death---/--/98
Place of Death-Marineland Canada
Cause of Death-Traumatic Shock
Family
Parents
Sister
Half Sisters
Neocia (1992)*, Malik (1996)*, Nootka 5's Calf (1998)*, April (2004)*
Brothers
Kiska's Calf (1992)*, Nova (1996)*, Hudson (1998)*
Half Brothers
Unknown Siblings
Nootka 5's Miscarriage (2001), Neocia's Miscarriage (2004)*, Nootka 5's Miscarriage (2006)*
Niece/Nephew
Origin of Kanuck
A French Canadian
Pronounced: kah NUC
Weights
Lengths
Breed
Subcategories
This category has only the following subcategory.