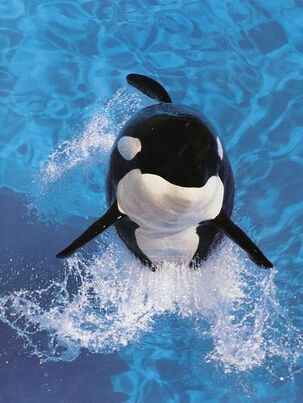 Kahana was a 13 year old female orca who was captured in October 1978. She passed away on May 14, 1991.
After Kahana's capture, she arrived to Hafnarfjordur Aquarium. Later that month, she was purchased by SeaWorld and moved to their Orlando park. In 1985, Kahana moved to SeaWorld Ohio and moved around during the summers and winters between the other parks. 
Eventually, Kahana made her way to San Antonio in 1990. She soon met a male named Kotar and she became pregnant with her first calf. Sady, Kahana miscarried her calf in November 1990. In May, 1991, Kahana started to act irregular. She hit her head against one of the walls which led to her bleeding and breaking her skull. She passed away on May 14th. A necropsy was performed and it was discovered that she had a tumor. 
Sex-Female
Aged-13
Captured-10/--/78
Age at Capture-Approximately 1
Place of Capture-Tvisker, Iceland
Date of Death-5/14/91
Place of Death-SeaWorld San Antonio
Cause of Death-Cancer
Family
Calves
Origin of Kahana
Hawaiian for "Priest"
Pronounced: kah HAH nah
Breed
Subcategories
This category has only the following subcategory.
Ad blocker interference detected!
Wikia is a free-to-use site that makes money from advertising. We have a modified experience for viewers using ad blockers

Wikia is not accessible if you've made further modifications. Remove the custom ad blocker rule(s) and the page will load as expected.