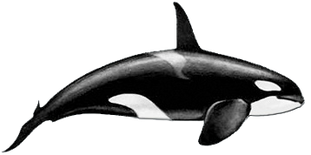 Junior was an 11 year old male orca who was captured in Iceland in November 1984. He passed away in June 1994.
Junior was captured along with several other orcas. While the other orcas were eventually sold to marine parks, Junior was not bought right away. Eventually, Junior was purchased by Marineland Canada in 1986. Here he met several other whales and eventually performed with them. Junior was a bit slower in his training than the other whales. Because of this, he was eventually moved to what is known as Marineland's warehouse. The warehouse was an indoor area which had a small tank inside. This was usually used to keep dolphins in until they were trained for shows. Junior, however, had lived in the warehouse from 1990 until his death. Junior was up for sale, but no marine parks were interested. Sadly, Junior passed away in June 1994 from brain damage.
Sex-Male
Aged-11
Captured-11/--/84
Age at Capture-Approximately 2
Place of Capture-Berufjordur, Iceland
Date of Death-6/--/94
Place of Death-Marineland Canada
Cause of Death-Brain Damage
Family
Origin of Junior
Breed
Subcategories
This category has only the following subcategory.
Ad blocker interference detected!
Wikia is a free-to-use site that makes money from advertising. We have a modified experience for viewers using ad blockers

Wikia is not accessible if you've made further modifications. Remove the custom ad blocker rule(s) and the page will load as expected.