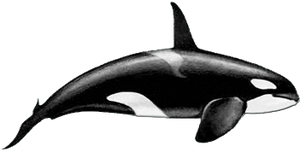 Irving was a young adult male orca who was estimated to be about 14 years old. He was captured in April 1968 from Pender Harbour, B.C. He escaped August 19, 1968.
Irving was captured along with several other whales. Irving was a large male and it was though he was at least 14 years old when he was captured. He was also known as Skookum or Cecil. Irving lived in a sea pen while he was in captivity. In August 1968, Irving escaped after damaging the sea pen. It is not known what happened to Irving after his escape. 
Sex-Male
Age-Unknown
Captured-4/--/68
Age at Capture-Approximately 14+
Place of Capture-Pender Harbour, B.C.
Age Escaped-14+
Date of Escape-8/19/68
Place of Escape-Pender Harbour, B.C.
Family
Origin of Irving
English for "Sea Friend"
Prounounced: err VEEN
Also Known as
Breed
Pages in category "Irving"
This category contains only the following page.
R
Ad blocker interference detected!
Wikia is a free-to-use site that makes money from advertising. We have a modified experience for viewers using ad blockers

Wikia is not accessible if you've made further modifications. Remove the custom ad blocker rule(s) and the page will load as expected.