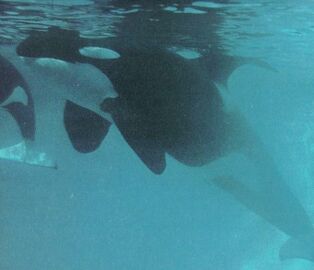 Hyak 2, also known as Tung-Jen, was a 24 year old male orca who was captured on April 26, 1968 in Canada. He passed away at the Vancouver Aquarium on February 16, 1991.
After he was captured, it was noted that he and an adult female, named Natsidalia, spent a lot of time together. It was assumed that she could be his mother. Both were purchased by the Vancouver Aquarium, but sadly, Natsidalia passed away before they both could be transferred out of the harbor. When Hyak arrived to the aquarium, he met a female named Skana. The two did well together and eventually performed together. Sadly, Skana passed away in 1980. 
Later that year, he met Bjossa and Finna. All three whales got along very well. Hyak cared for the newcomers to the point that he was basically a surrogate for them. 
As they aged and Bjossa became mature, she and Hyak mated and she became pregnant. When she gave birth in 1988, the calf passed away soon after. The two mated again and Bjossa became pregnant with their second calf. Sadly, Hyak 2 never was able to meet his calf as he passed away on February 16, 1991 from pneumonia.
Sex-Male
Aged-24
Captured-4/26/68
Age at Capture-Approximately 1
Place of Capture-Pender Harbor, BC
Date of Death-2/16/91
Place of Death-Vancouver Aquarium
Cause of Death-Pneumonia
Family
Parents
Calves
Also known as
Origin of Hyak
Chinook for "Swift"
Pronounced: HY-ak
Breed
Subcategories
This category has only the following subcategory.
Ad blocker interference detected!
Wikia is a free-to-use site that makes money from advertising. We have a modified experience for viewers using ad blockers

Wikia is not accessible if you've made further modifications. Remove the custom ad blocker rule(s) and the page will load as expected.