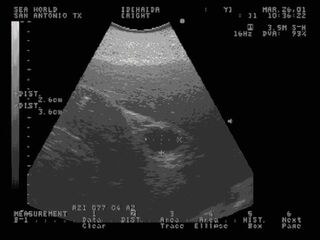 On August 1, 2001, Haida 2 passed away while pregnant with her third calf. Haida was only about 5 months into her pregnancy. The calf was a male and the father was Tilikum through artificial insemination. Little is known about the calf. 
Sex-Male
Birthday/Date of Death-8/1/01
Birth Place/Place of Death-SeaWorld San Antonio
Cause of Death-Unknown/Died With Mother
Family
Parents
Brother
Half Brothers
Taku (1993)*, Sumar (1998)*, Tuar (1999), Tekoa (2000), Nakai (2001), Ikaika (2002), Makaio (2010)
Half Sisters
Nyar (1993)*, Haida 2's Calf (1994)*, Unna (1996)*, Kohana (2002), Skyla (2004), Malia (2007), Sakari (2010)
Nieces
Nalani, Victoria*, Kyara*
Nephews
Breed
Subcategories
This category has only the following subcategory.
Ad blocker interference detected!
Wikia is a free-to-use site that makes money from advertising. We have a modified experience for viewers using ad blockers

Wikia is not accessible if you've made further modifications. Remove the custom ad blocker rule(s) and the page will load as expected.