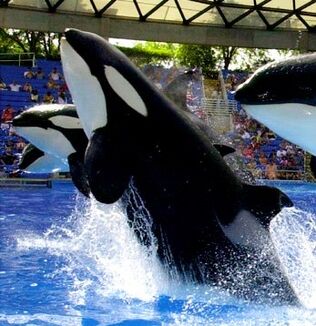 Haida 2 was a 20 year old female orca who was captured in Iceland in October 1982. She passed away on August 1, 2001.
Several months after her capture, Haida 2 was bought by Sealand of the Pacific. Haida, Nootka 4 and another young male were soon sent to the park. Unfortunately, the male passed away soon after. In 1984, they were joined by a male named Tilikum. The three orcas matured and Haida eventually became pregnant with Tilikum's calf. She gave birth to her first calf, a male named Kyuquot, on December 24, 1991. She was very protective of her calf, and at times, would displace Tilikum to keep him away from Kyuquot.
Earlier that year, on February 20, a young trainer at Sealand fell into the water. None of the whales had ever had a trainer in the water with them. The whales started dragging her underwater and she died soon after as a result of drowning. The park closed in September and all four whales moved to SeaWorld parks. Haida and her son moved to SeaWorld San Antonio.
In San Antonio, Haida met another male named Kotar. She soon became pregnant with her second calf. On November 20, 1994, she gave birth to a female calf. The calf did well at first, but she soon came down with pneumonia. Sadly she passed away on December 28, 1994.
Haida was very close to her son. She was the dominant orca at the park and was a reliable whale, although she never participated in waterworks due to her history and having no prior experience. She got along well with her tanks mates and could be seen performing with them during shows. 
In early 2001, Haida became pregnant through artificial insemination with her third calf. The father was Tilikum. Sadly, five months into her pregnancy, she became ill and died on August 1, 2001 from a brain abscess. It was later discovered that she had been pregnant with a male calf.
On April 19, 2017, Takara gave birth to Kyuquot's first calf. The female calf was named Kyara. Kyara was Haida's only grandchild. She passed away on July 24, 2017.
Sex-Female
Aged-20
Captured-October 1982
Age at Capture-Approximately 1
Place of Capture-Stokkseyri, Iceland
Date of Death-8/1/01
Place of Death-SeaWorld San Antonio
Cause of Death-Brain Abscess
Family
Calves
Grandchildren
Origin of Haida
A Native American Tribe
Pronounced: hi DAH
Weights
5,300 lbs (November 1994)
Lengths
Breed
Subcategories
This category has only the following subcategory.
Ad blocker interference detected!
Wikia is a free-to-use site that makes money from advertising. We have a modified experience for viewers using ad blockers

Wikia is not accessible if you've made further modifications. Remove the custom ad blocker rule(s) and the page will load as expected.