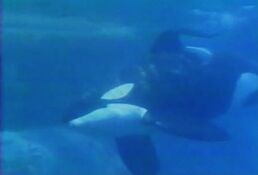 Finna was a 20 year old male orca who was captured in Iceland on November 19, 1980. He passed away on October 6, 1997 at the Vancouver Aquarium.
Sex-Male
Aged-20
Captured-11/19/80
Age at Capture-Approximately 3
Place of Capture-Iceland
Date of Death-10/6/97
Place of Death-Vancouver Aquarium
Family
Calf
Origin of Finna
Irish for "Fair"
Pronounced: fin AH
Breed

Finna sired one calf with his female companion Bjossa. Sadly the calf was a stillborn.
Subcategories
This category has only the following subcategory.