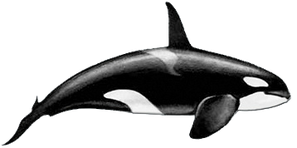 Dzul-ha, also known as Shamu, was a 4 year old male orca who was captured in Iceland in July 1979. He passed away at Aquarama on Parade in 1983.
Sex-Male
Aged-4
Captured-7/--/79
Age at Capture-Approximately 1
Place of Capture-Iceland
Date of Death-1983
Place of Death-Aquarama on Parade
Family
Origin of Dzul-Ha
Possibly after a popular beach.
Pronounced: zool HAH

Origin of Shamu
Possibly after SeaWorld's "Shamu"
Pronounced: sha MOO
Also Known as
Breed
Subcategories
This category has only the following subcategory.