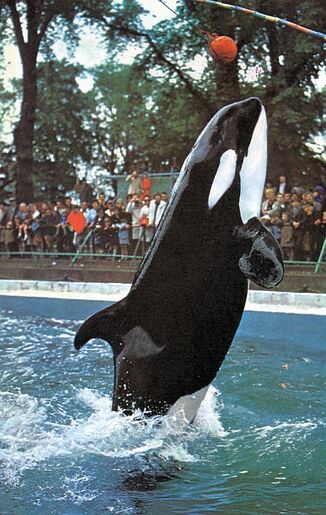 Cuddles was a 7 year old male orca who was captured on October 15, 1968 in Washington. He passed away on February 6, 1974 at Dudley Zoo.
Cuddles was captured along with several other orcas. Soon after his capture, he was sent to the Seattle Marine Aquarium until he was purchased by Flamingo Land in Great Britain. Cuddles was grouped with bottlenose dolphins here. Cuddles would become aggressive at times and eventually he was moved to the Dudley Zoo in 1971. 
At the Dudley Zoo, Cuddles was again the only orca. Cuddles was involved in studies for artificial insemination in orcas. His health started to decline here. Eventually, he passed away from a bacterial abscess and broken rib on February 6, 1974.
Sex-Male
Aged-7
Captured-10/15/68
Age at Capture-Approximately 2
Place of Capture-Yukon Harbor, Washington
Date of Death-2/6/74
Place of Death-Dudley Zoo
Cause of Death-Broken Rib/Bacterial Abscess
Family
Southern Residents (J or L Pod)
Origin of Cuddles
English for "To Embrace"
Pronounced: cud LES
Breed
Subcategories
This category has only the following subcategory.
Ad blocker interference detected!
Wikia is a free-to-use site that makes money from advertising. We have a modified experience for viewers using ad blockers

Wikia is not accessible if you've made further modifications. Remove the custom ad blocker rule(s) and the page will load as expected.