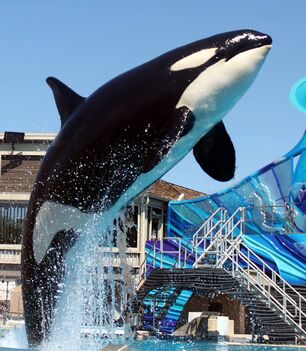 Corky 2 is a 52 year old female orca who lives at SeaWorld San Diego. She is known as one of the sweetest orcas in captivity. Unfortunately, she was pregnant 7 times, but none of her calves survived to 2 months of age. All of her calves were sired by Orky 2. She has become a surrogate mother to many other calves though and will often help other mothers take care of their calves.
After Orkid's mother died when she was 11 months old, Corky became her surrogate mother. Orkid is still very close to Corky as if she were her biological mother. After Corky's last calf, she stopped cycling and was no longer able to get pregnant.
Corky was one of the main waterwork whales before they were stopped in 2010. She has a very close bond with her trainers and has never shown any aggression towards them. Corky is one of the oldest orcas in captivity. She is also one of the largest females weighing over 8,000 pounds and has a very tall and straight dorsal fin.
Sex-Female
Age-52
Captured-12/12/69
Age at Capture-Approximately 3
Place of Capture-Pender Harbor, BC
Family
Mother
Calves

Half Sister
Half Brothers
Okisollo (1971)*, Fife (1992)
Unknown Siblings
Stripe's Calf (1967)*, Stripe's Calf (1977)*
Niece
Unknown Niece/Nephews
Ripple's Calf (1994)*, Fern (2009), Eliot (2013)
Commonly Refered to as
Nicknames
Cookie
Gentle Giant
Corkelicious
Weights
8,200 lbs (2009)
8,100 lbs (2010)
8,000 lbs (February 2012)
8,335 lbs (2015)
8,300 lbs (2016
Lengths
19.8 ft (2010)
20 ft (February 2012)
Breed
Corky was captured in 1969 in British Columbia, Canada. She is part of the Northern Resident "A" pod. The Northern Residents are one of the most widely studied orca populations. Corky's mother was named Stripe. She was one of six known calves born to Stripe. Although she has several living wild relatives, she has never met any of them because she was captured before they were born.
She is rarely grouped with Ulises as he is more dominant than her, though the dominant females, especially Orkid, will protect Corky from him. Corky was only grouped with Ulises if Kasatka was in the same tank with them. She is often the first orca to meet new orcas who have come to the park. She can often be seen with Keet, Ikaika, Orkid and Shouka, though she also spends time with Nakai, Kalia, Makani and Amaya. Ikaika is very close to Corky ever since he came to the park in 2011. Makani has been grouped with Corky a lot since Kasatka passed away.
Trending pages
All items (1)