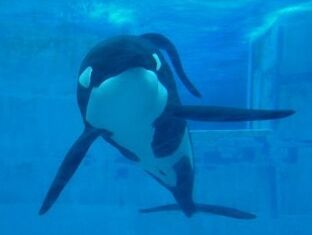 Bingo was a 32 year old male orca who lived at the Port of Nagoya Public Aquarium. He was captured in Iceland in 1984. He passed away on August 2, 2014.
Bingo, also known as Thor, was the most successful breeding male orca in Japan. He had sired two unsuccessful pregnancies, but in 1998, Stella gave birth to his first successful calf. His daughter was named Lovey. Lovey was the first orca calf to be born in captivity in Japan and thrive. He had gone on to sire four more daughters: Lara, Sarah, Ran and Lynn. He also has two grandchildren.
Sex-Male
Aged-32
Captured-November 1984
Age at Capture-Approximately 2
Place of Capture-Reydarfjordur, Iceland
Date of Death-8/2/14
Place of Death-Port of Nagoya Public Aquarium
Cause of Death-Pneumonia
Family
Calves
Grandchildren
Also Known as
Origin of Bingo
English and Italian
Game of chance. Game of probability that began in Italy in the 1500s.
Weights
8,800 lbs (2010)
9,480 lbs (2014)
​Lengths
Breed
In 2010, there was talk of him and Stella moving to Nagoya to join another adult female named Nami. Nami ended up dying in January 2011 and the move was pushed back due to this and a Tsunami that had occured. In November 2011, it was announced that Stella and Lovey were both pregnant and that Bingo, Stella and Ran would be moving to Nagoya. After living at Kamogawa Sea World for most of his life, he was transferred to Port of Nagoya Public Aquarium in December 2011.
In Spring of 2014, Bingo started showing signs of being ill. Veterinarians and trainers tried to assist Bingo and get him healthy again. Unfortunately, he passed away from his illness in August 2014.
All items (1)