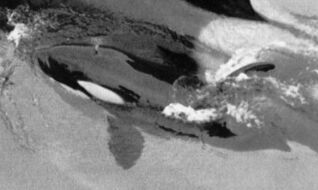 Baby Shamu 2 was a newborn orca who was born at SeaWorld San Diego on January 5, 1986. Her mother is Kenau and her father is Winston. She passed away on January 16, 1986.
Baby Shamu 2, as she had been nicknamed, seemed to do well after birth. She began to nurse soon after birth and Kenau had been doing well with her first calf. Unfortunately, the calf started to have trouble breathing and passed away soon after. Orca calves are born with heart valves open and they should close soon after birth. Because Baby Shamu 2 had a respiratory infection, this worsened her condition. One of the valves did not close which caused the calf to pass away. 
Sex-Female
Aged-12 Days
Birthday-1/5/86
Birthplace-SeaWorld San Diego
Length of Labor-4 Hours
Date of Death-1/16/86
Place of Death-SeaWorld San Diego
Cause of Death-Heart Defect/Respiratory Virus
Family
Parents
Half Sisters
Kalina (1985)*, Kayla (1988)
Half Brother
Unknown Siblings 
Kandu 5's Stillborn (1986)*
Nieces
Skyla, Kalia, Halyn*, Victoria*, Amaya
Nephews
Keet, Keto, Tuar, Kayla's Miscarriage*, Adan
Unknown Niece/Nephew
Breed
50% Icelandic
50% Southern Resident
Subcategories
This category has only the following subcategory.
Ad blocker interference detected!
Wikia is a free-to-use site that makes money from advertising. We have a modified experience for viewers using ad blockers

Wikia is not accessible if you've made further modifications. Remove the custom ad blocker rule(s) and the page will load as expected.