Adán is a 7 year old male orca who was born on October 13, 2010, though Loro Parque celebrates his birthday on the 12th, which is Spain's national holiday. His mother is Kohana and his father is Keto. He was the first orca to be born in Loro Parque and also the first orca to be born in Spain.
Sadly after birth, his mother Kohana rejected him as she didn't know how to take care of a calf. He is also slightly inbred as Kohana's mother Takara, is Keto's half sister. This combination means Adán could be up to 6.25% inbred.
Sex-Male
Age-7
Birthday-10/13/10
Birth Place-Loro Parque
Type of Birth-Tail First
Time of Birth-Morning (BST)
Length of Labor-2 Hours
Family
Parents
Grandparents
Great Grandparents
Sister
Aunts
Takara, Nyar*, Unna*, Skyla, Malia, Sakari, Kamea, Kyara*
Uncles
Kyuquot, Keet, Taku*, Keto, Sumar*, Tuar, Tekoa, Nakai, Ikaika, Trua, Makaio, Makani
Cousins
Kohana, Kalia, Halyn*, Trua, Nalani, Sakari, Victoria*, Kamea, Amaya, Kyara*
Origin of Adán
Means "The First Man" in Spanish and is the Spanish form of "Adam".
Means "Man" and "Earth" in both Spanish and Hebrew.
Pronunciation-ah DAHN
Other Names Considered
Weights
330 lbs (October 2010)
1,192 lbs (October 2011)
2,300 lbs (2016)
Lengths
6.5 ft (October 2010)
9.8 ft (October 2011)
14.1 ft (2016)
Breed
87.5% Icelandic
12.5% Southern Resident
Adán has been introduced to all of the orcas living in Loro Parque. The first whale he was introduced to was Keto. He was the first to be introduced to his younger sister, Victoria, and the two could often be seen together. Around September 2012, Adán started appearing in shows along with the older orcas. He can be seen with any pod member, though he is most often seen with Kohana, Skyla and Morgan.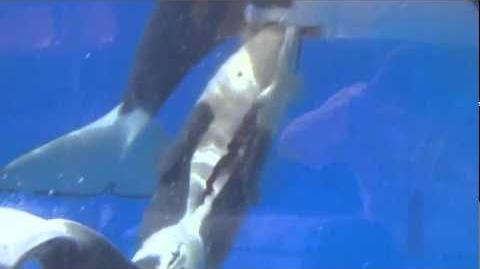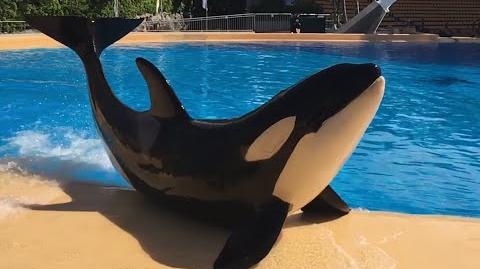 Pages in category "Adán"
This category contains only the following page.
Ad blocker interference detected!
Wikia is a free-to-use site that makes money from advertising. We have a modified experience for viewers using ad blockers

Wikia is not accessible if you've made further modifications. Remove the custom ad blocker rule(s) and the page will load as expected.